Portrait of Captain Lorenzo Dow Baker
oil on canvas painting
PAINTINGS - OIL
marad; paintings
Sheffield, Isaac
Circa 1836
oil paint; canvas; wood
Overall (w/frame): 35 1/2 x 30 1/2 x 2 1/4 in.
Oil on canvas, portrait of Captain Lorenzo Dow Baker (1815-1894), attributed to Isaac Sheffield (American, 1806/7-1845), ca. 1840. Captain Baker is posed in front of a whaling scene to represent his occupation.

Lorenzo Dow Baker, of Groton, Connecticut, carried the name of an evangelical Methodist minister when he went to sea. He first went whaling at age 17, and after two short voyages to the South Atlantic he was a harpooner at 18, a mate at 19, and a captain at 24.

Baker commanded the whaleships BLACKSTONE, ROBIN HOOD, and ROMULUS of Mystic, and the GEORGE & MARY and ROBERT BOWNE of New London, making eight voyages between 1839 and 1857. Then he took command of the Mystic-built clipper ship HOUND, sailing her to Hong Kong and in the coastal trade before the Civil War. After the war he made a last whaling voyage to Hudson Bay before settling down in his home town.

1936.5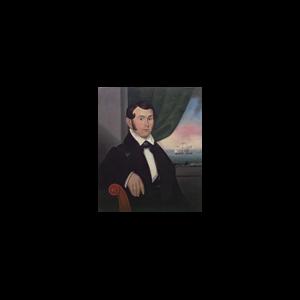 Related Subjects