Clipper ship DAVID CROCKETT
oil painting
PAINTINGS - OIL
marad; paintings
Buttersworth, James E.
painting; textile; paper; metal; wood; glass; ceramic; bone; ivory; other
stretcher 29 x 35-3/4 in.; frame 33-1/2 x 40-5/8 x 2-1/2"
Oil painting of the clipper ship DAVID CROCKETT on a port tack. Nameboard is visible on the bow and port quarter. Also visible is a starboard view of an unidentified ship on starboard tack at left. Faint signature at bottom right "J. E. Buttersworth".
1992.21.10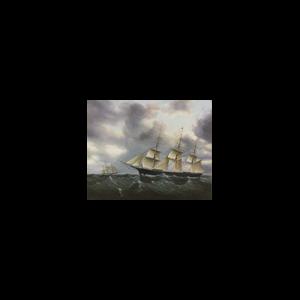 Related Subjects