"Clipper Ship RACER"
color lithograph
PRINTS - LITHOGRAPHS
web coll buttersworth01
Parsons, Charles Richard; Buttersworth, James E.
19-1/2 x 26-1/2 in.
Color lithograph of clipper ship RACER in rough seas; port view with three sails set, on starboard tack; marked at bottom left "C. PARSONS DEL" and at right "LITH BY N. CURRIER"; marked in larger type at center "TO D. L. Lawrence, Esq. this Print of the/ CLIPPER SHIP "RACER"./ is respectfully dedicated by the Publisher."; dimensions of RACER at bottom left and right; marked bottom right "J. E. BUTTERSWORTH".
1992.21.5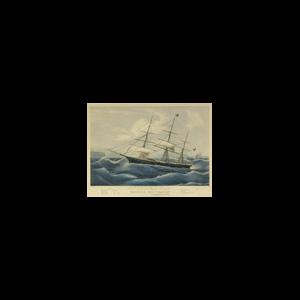 Related Subjects