Sloop yacht VOLUNTEER and USN vessels in New York Bay
oil painting
PAINTINGS - OIL
marad; paintings
Buttersworth, James E.
USA, NY, New York Bay
board 8 x 12 in.; frame 10-5/8 x 14-1/2 in.
Oil on board painting of sloop yacht VOLUNTEER (America's Cup defender in 1887) & other vessels in NY Bay, by J.E. Buttersworth. On back, in pencil: "A View of N. York Sound with Ships/ of the Navy coming in The VOLUNTEER in the/ for ground leading the squadron". Signed lower right: "J.E. Buttersworth" (partially obscured by frame).
UNIDENTIFIED schooner; UNIDENTIFIED ship
1983.89.22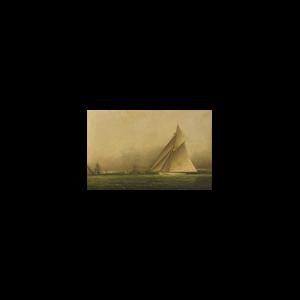 Related Subjects