Steamships WASHINGTON and HERMANN
oil painting
PAINTINGS - OIL
marad; paintings
Buttersworth, James E.
USA, NY, New York, Governors Island
Circa 1850
wood; oil paint; textile
stretcher 27-1/4 x 34-1/4 in.; frame 36 x 43-1/2 x 4 x 3-3/4 in.
Oil painting of 1st US mail steamships, WASHINGTON and HERMANN, by J. E. Buttersworth; two sidewheel steamers, each with single stack, a red stripe on hull, and figurehead; each flies American flag, name pennant, and house flag, blue with white letters "USM". No sails set on the steamships. Sail craft in background, all on green-gray sea. Signed lower right: "J. E. Buttersworth". Not dated, but believed painted between 1847 (the sister ships were built) and 1857 (sold to Pacific). WASHINGTON scrapped 1863; HERMANN lost 1869.
1938.561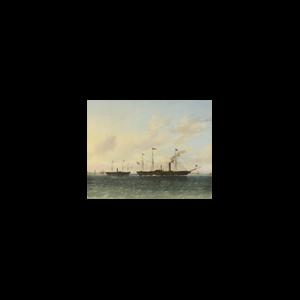 Related Subjects