Model of whaleboat
full model
MODELS - VESSELS - FULL
marad; models
Keeler, R. H.
wood; metal; textile; painting
LOA 21-7/16 in.; beam 4-3/4 in.; mount 5-3/8 x 21-7/8 in.
Whaleboat model made by Dr. R.H. Keeler; painted white with black trim; equipped with 4 oars, 1 steering oar, 3 paddles, 3 harpoons, harpoon rest, loggerhead, drag, 6 removable oarlocks, rudder with removable tiller, rudder ropes; flag, bucket for drinking water; pail with rope handle; bucket, bucket with coiled rope; workable centerboard; spritsail; mounted on 2 turned posts on grained wood.
UNIDENTIFIED whaleboat
1935.95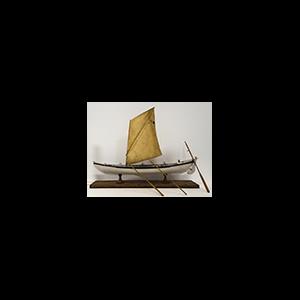 Related Subjects