"Heards Island - South Indian Ocean"
oil painting
PAINTINGS - OIL
marad; paintings
Antarctica, Kerguelen Islands; Oceania, Heard Island; Indian Ocean
oil paint
20-1/8 x 32 in.
Oil on canvas by unidentified 19th century artist. Entitled "HEARDS ISLAND/ SOUTH INDIAN OCEAN". Shows inlet and shoreline with icy cliffs in background and sailing vessels in right background. Man killing huge seal in foreground. Canvas tent and other men on shore at left. Heard Island is a subartic islet, 25 miles long and 10 miles wide, mostly covered by snow and glaciers, and was discovered by Capt. John (James?) J. Heard in 1853.

In 1853, when humans discovered the Heard's Island, and for 30 years after, whalemen from New London, Connecticut, flocked there to kill the large elephant seals that had come there to breed, rendering their insulating blubber into oil and saving their leathery pelts for industrial uses.
1939.1256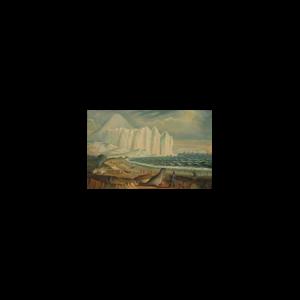 Related Subjects