Cribbage board carved "Cape Fullerton ERA Hudson Bay 1905"
cribbage board
SCRIMSHAW & ALLIED ARTS - CRIBBAGE BOARDS
marad; scrimshaw
Comer, George
Canada, Hudson Bay; Canada, Nunavut, Cape Fullerton
1905
ivory
Overall: 2 3/8 x 17 3/4 x 2 1/2 in.
Hand carved cribbage board, carved from a walrus tusk by Captain George Comer. The board is marked with a name and a picture of a whaling schooner, "CAPE FULLERTIN/ ERA HUDSON BAY 1905". The board has four legs and is decorated with a topsail schooner, a tugboat, and a lighthouse. The pictures are framed by ivy leaves.

Captain George Comer made this cribbage board from a walrus tusk during the winter of 1905. Iced in from mid-September to May, Arctic whalemen had plenty of time to play games like cribbage, or to exercise their creativity in crafts like scrimshaw. Comer's relief carving shows his schooner Era approaching port, which he hoped to be doing at the end of the 1905 season.
1940.390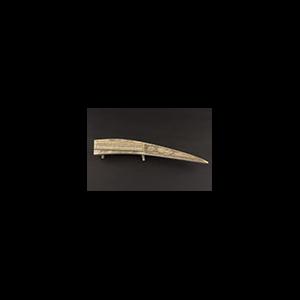 Related Objects
Related Subjects