Haida Indian carving "Nor'westman"
Nor'westman carving
ETHNOGRAPHIC ITEMS
Canada, British Columbia
early to mid 19th c.
12 in. H, sculpture only; 13"H, including attached white marble base; separate plexi base: 8 3/8" x 8 1/4 " x 1/2"; 13 1/2"H including plexi base
A carving done by a member of the Haida indigenous nation of the Northwest coast of North America, early to mid 19th century, representative of the "Nor'westman" or "Boston man", New England sea captains involved in the sea otter fur trade between late 1780's and 1840; body of argillite (stone found only on Haida Gwaii, formerly the Queen Charlotte Islands, BC, Canada) and face of ivory; carving stands on a black base, possibly argillite, attached to a white marble base, supported from behind by a brass rod (removable) inserted into a plexi base; stylized details of hair and wide sideburns are topped by a visored cap with seam and button details; delicatley carved ivory facial features; figure wears a high collared shirt, waistcoat with buttons and seam detailing, straight legged, two-buttoned pants extend fully to base; knee-length coat with a pleated back, wide lapels, a high collar and narrow, high set arms ending in deep cuffs in side pockets. Reproduced in the 1950's for Mystic Seaport: see 1965.1056.
1945.891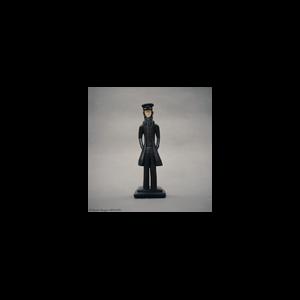 Related Objects
Related Subjects