"A Shoal of Sperm Whales"
tooth
SCRIMSHAW & ALLIED ARTS - TEETH
marad; scrimshaw
December 1818
7.13 x 3.38 x 0
Scrimshawed sperm whale's tooth. Obverse: written in oval in script "A/ Sperm Whale's/ Tooth". Below: "Dec 1818". On reverse: written in script: "A Shoal of Sperm Whales". Above that title is an illustration of 7 sperm whales in varying sizes, including one calf. All spouting. Largest whale, in foreground, showing teeth in lower jaw; others' mouths closed. Some brown staining on obverse of tooth.
1946.1480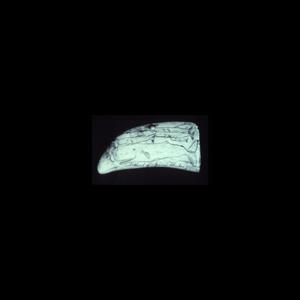 Related Objects
Related Subjects