"Burning the Wrecks to Avoid Danger to Other Vessels"
lithograph
PRINTS - LITHOGRAPHS
Currier & Ives; Bradford, William
Arctic regions
Circa 1873
10.88 x 13.88 x 0
Color lithograph, printed bottom center "AMERICAN WHALERS CRUSHED IN THE ICE./ "BURNING THE WRECKS TO AVOID DANGER TO OTHER VESSELS" " and lower left "PUBLISHED BY CURRIER & IVES" and lower right "125 NASSAU ST. NEW YORK". Brittle and edges torn. Ref: "Currier & Ives Printmakers to the American People", Vol. 2, by Harry T. Peters, Doubleday, Doran Co., Inc., Garden City, New York, 1931, no. 306. Attributed to William Bradford. C&I at above address 1872-1874.
UNIDENTIFIED whaling vessel
1947.545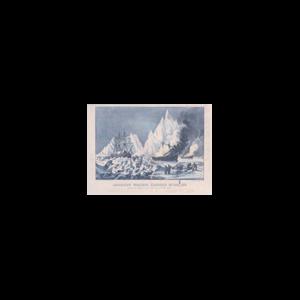 Related Subjects