"In hot pursuit"
watercolors
PAINTINGS - WATERCOLORS
marad; paintings
Cozzens, Frederic Schiller
Cuba, Santiago de Cuba
1898
paper
Watercolor 14 x 21-3/4 in.; mat 20 x 27 in.
Watercolor by Frederic Schiller Cozzens; paper mounted on card; "#104 In hot pursuit" written in pencil on lower right corner on mat board; probably depicts scene from Spanish-American War, 1898, with Spanish armored cruiser INFANTA MARIA TERESA at left, flagship of Admiral Pascual Cervera, commander of the Spanish fleet that sailed into Santiago, Cuba, and bottled up there by American naval forces; INFANTA MARIA TERESA was the first to try to escape the harbor and American forces on July 3, 1898; American armored cruiser at right either USS BROOKLYN or USS NEW YORK; signed in red lower left "Fred. S. Cozzens/ 98."
UNIDENTIFIED battleship
1998.47.8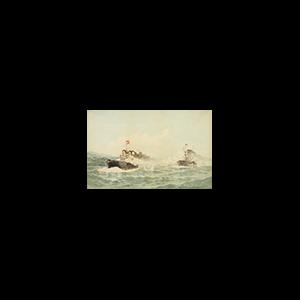 Related Events
Related Subjects