Whaling Vessels among a School of Sperm Whales off Hawaii, 1833
aquatint
PRINTS - AQUATINTS
Hulsart, C. B.
South Pacific Ocean, Hawaiian Islands
After December 16, 1833
paper
15.94 x 23.50 x 0
Framed aquatint of famous Rotch Fleet; ENTERPRISE, HOUQUA, POCAHONTAS and WILLIAM ROTCH among a school of sperm whales off the coast of Hawaii. "Antiques" of 2/64, pg. 136 has advertisement for Old Print Shop: "Rare aquatint December 16, 1833, J. Hill after T. Birch from a sketch by C.B. Hulsart who lost an arm aboard the whaleship SUPERIOR of New London, and was aboard ENTERPRISE at the time".
1955.491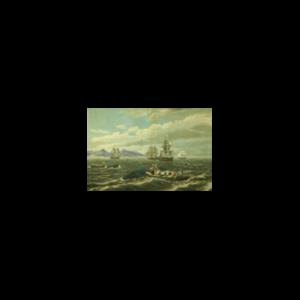 Related Subjects