Battleship OREGON, 1898
gelatin print
PHOTOGRAPHS
Johnston, J.S.
USA, NY, New York
1898-08-20
Overall: 6.63 x 8 3/4 x 0 in.; 16.84 x 22.23 x 0 cm
Stern view of the U.S. Navy battleship OREGON, with her 13-inch guns, this gelatin print was taken by J.S. Johnston about the time of the naval parade in New York, 20 August 1898. Printed in negative across the bottom reads "893A'; 'OREGON', U.S.N. COPYRIGHT 1898, BY J. S. JOHNSTON, N.Y."
The 348-foot OREGON was built at the Union Iron Works in San Francisco. At the time of her commissioning in 1896, the OREGON, and her sisters INDIANA and MASSACHUSETTS, were the most heavily armed battleships in the world. The OREGON was best known for her sixty-six-day, 14,000-mile run around Cape Horn in 1898 to join the Atlantic Fleet off Cuba during the Spanish-American War.

1958.1175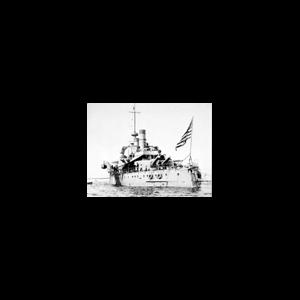 Related Events