"H.M.S. [sic] CHESAPEAKE - 1860"
watercolor and gouache
PAINTINGS - WATERCOLORS
marad; paintings
Buttersworth, James E. (attributed to)
1860
paper dimensions 9-5/8 x 14-1/4 in.; frame 16 x 20 in.
Watercolor and gouache on paper, unsigned; port view of frigate in storm, entitled "H.M.S. CHESAPEAKE - 1860" attributed to James E. Buttersworth (Anglo-American, 1817-1894). Vessel is depicted with main deck cannons run out, sailing before the wind; vessel appears to be more likely USS CHESAPEAKE, a 38 gun frigate captured in 1813 and renamed HMS CHESAPEAKE during the period 1813-1819.
1985.63.2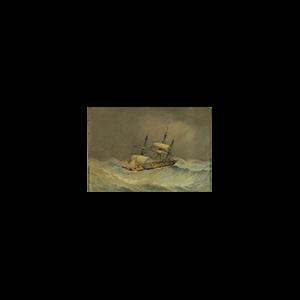 Related Subjects