Inuit women in costume on board whaling schooner ERA, Hudson Bay, Canada, 1897-1905.
glass negative
PHOTOGRAPHS - GLASS NEGATIVES
web coll comer01
Comer, George (Capt.)
Canada, Hudson Bay
1897-1905
glass
4 x 5 in.
Glass negative by Capt. George Comer, taken in Hudson Bay, ca. 1897-1905. Information from original envelope identifies this as # 47 and A44. Depicts a group of Inuit women posing inside the deck house on whaling schooner ERA . Women in front row wear parkas adorned with trade beads obtained from the whalers. Comer sometimes used the caption "Belles of the Bay" for this image.
1963.1767.4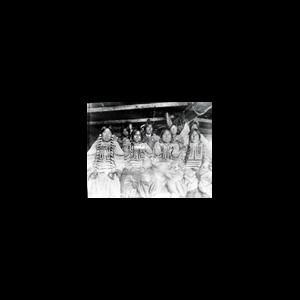 Related Subjects