Inuit women and children outside skin tent, Hudson Bay, Canada, circa 1907-1912.
glass negative
PHOTOGRAPHS - GLASS NEGATIVES
web coll comer01
Comer, George
Canada, Hudson Bay
circa 1907-1912
glass
4 x 5 in.
Glass negative by Capt. George Comer, taken in Hudson Bay, ca. 1897-1912. Group of Inuit women and children seated in front of a skin tent. Such tents provided shelter during summer. Information from original envelope identifies this as # 21.
1963.1767.10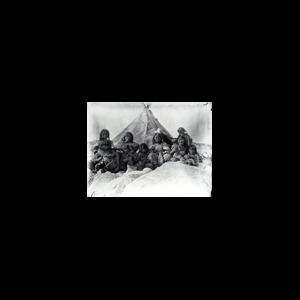 Related Subjects