Coal Elevator CLARK NO. 2 capsized off Shooter's Island, NY, June 24, 1901
glass negative
PHOTOGRAPHS - GLASS NEGATIVES
Chapman Derrick & Wrecking Co.
USA, NY, New York, Staten Island, Shooters Island
1901-06-24
glass
5 x 7 in.
Gelatin glass negative of Merritt & Chapman Derrick & Wrecking Co., New York; neg. #900; floating derrick MONARCH and tug HUSTLER raising coal elevator CLARK NO. 2, sunk off Shooter's Island, Staten Island, NY, June 24, 1901 [identified on print 2008.28.3.178 from this negative; see also 1964.660.162-164 and 2008.28.3.177; see New York Times article June 25, 1901; Black steward, name unknown, killed in accident.
1964.660.165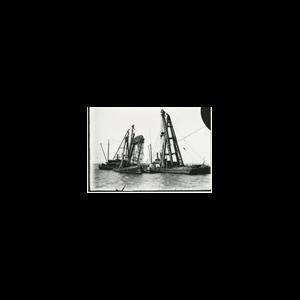 Related Objects
Related Subjects