Copy photo, starboard view of tanker F. H. BUCK on rocks at Ft. Pinos, Monterey Bay
gelatin glass negative
PHOTOGRAPHS - GLASS NEGATIVES
Chapman Derrick & Wrecking Co.
USA, CA, Monterey Bay
glass
overall: 5 x 7 in.
Gelatin glass negative of Merritt-Chapman & Scott Corp.; neg. #8005; copy photograph, starboard view of tanker F. H. BUCK on rocks at Pt. Pinos, Monterey Bay; see 1964.660.2927-2928; see print 2008.28.5.631 from this negative; see camera copy print 1962.899.
1964.660.2926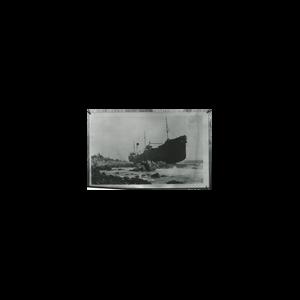 Related Objects
Related Subjects