"Provision Dog train"
photographic postcard
POSTCARDS
Kawin & Co.
Arctic Ocean
1909
paper
3-1/2 x 5-1/2 in.
Photographic postcard; caption on front, "No. 13, Provision Dog train."; one of series (missing nos. 2, 3, 16, 18, 20, 24, 46) recounting Peary and Cook expeditions to the Arctic in search of the North Pole; descriptive paragraph on back; published by Kawin & Co., Chicago, copyright 1909; decorative icicle motif border with vignettes at bottom of walrus on ice and Eskimo with harpoon and dead polar bear.
1965.727.11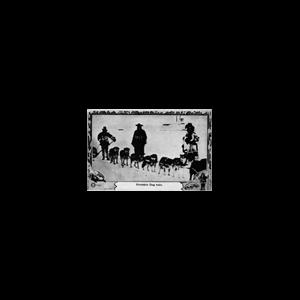 Related Subjects