Schooner PILOTS BRIDE, by J. H. Siems, 1881
watercolor
PAINTINGS - WATERCOLORS
marad; paintings
Siems, J. H.
SOUTH AFRICA; Table Bay
1881
overall: 15 x 19 in.
Watercolor of schooner PILOTS BRIDE; on port tack; black topsides; white trim; blue figurehead. White pennant w/red trim and initials "P.B." from mizzen top; American flag flies aft. 6 figures on deck; mountains and anchored ships in background. Signed lower right corner: "J.H. SIEMS/ 1881." On mat: "American Whaling Schooner/ Pilots Bride/ Table Bay Cape of Good Hope Mar. 4th 1881."
1972.53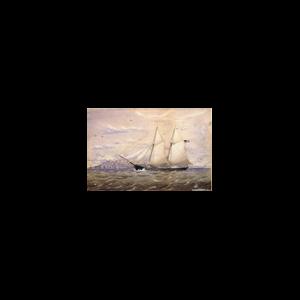 Related Subjects