Men Cutting into Whale on Starboard Side of Whaler CALIFORNIA, 1903
photograph
PHOTOGRAPHS
H.S. Hutchinson & Co.
1903
overall: 5 7/8 x 4 1/8 in.
Black and white photograph of starboard side of whaler CALIFORNIA cutting into a whale. Several men on cutting stage. Man on whale. Identical to photo in copyrighted series which has caption: "21. Cutting in a right whale / Reeving through head chain preparatory to cutting off the head". See Cutting in a Whale, a series of twenty-five photographs taken aboard bark CALIFORNIA. Copyrighted 1903 by H. S. Hutchinson & Co., New Bedford, MA.
1973.899.300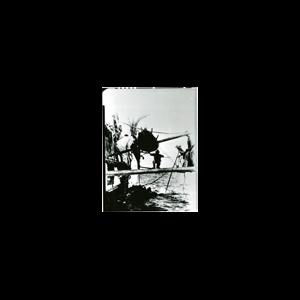 Related Objects