Scrimshaw tooth, "The Sailor Boy" and "The Young Mother"
tooth
SCRIMSHAW & ALLIED ARTS - TEETH
marad; scrimshaw
Finney, Nathaniel Sylvester
Before 1839
9.00 x 0 x 0
Sailor Boy Tooth by N.S. Finney. On one side, "The Sailor Boy" image, copied fom the frontispiece in Charles Ellms "Shipwrecks and Disasters at Sea" (Philadelphia, 1839), Inspired by and with an inscription based on a poem by Byron; which is in turn based upon "The Sailor Boy," engraved by William Lizars of Edinburgh after William Nicholson, also of Edinburgh, published in "The Winter's Wreath 1828: A Collection of Original Contributions in Prose and Verse" (London: George B. Whittaker, for George Smith, Liverpool, 1827), p.241. Image shows stern of a vessel with a youn boy with slightly pink cheeks holding onto ratlines. Written below "The Sailor Boy./ Though the strained mast should quiver as a reed,/ And the rent canvas fluttering strew the gale,/ Still must I on ... BYRON." Anchor and swags above (stern deck of vessel) and planking of hull below. On the other side, "The Young Mother" image, from a source as yet unidentified. Shows a woman holding a baby girl, with "THE YOUNG MOTHER" written below, and below that a harp and lyre, horn, book, and branches, repeated chain and V motif border around the base of the tooth.
1974.691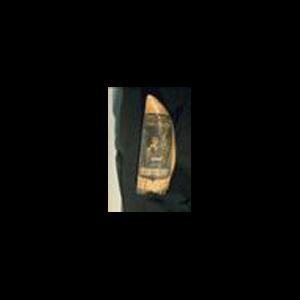 Related Subjects