Engraved sperm whale tooth, possibly by Thomas L. Albro.
tooth
SCRIMSHAW & ALLIED ARTS - TEETH
marad; scrimshaw
Albro, Thomas L.
USA, RI, Newport
after 1831
overall: 2 1/2 x 8 5/16 x 3 3/8 in.;0 x 8.38 x 0
Sperm whale tooth, heavily engraved on front with large sperm whale above 2 whaleships & 6 whaleboats engaged in whaling. Marked: "Ship/ John Coggeshall of. Newport. R. I./ Sperm Whale/ T. L. ALBRO". At left is scene of mid-ocean rockpile, "French Rock/ Lat. 31 degrees 30' South/ Long 179 degrees 9" West", "hand of God" pointing out from a cloud. At top left is rough draft engraving of word "Ship". On reverse is scene of 3 whaleships, one cutting in whale, 2 other ships under sail. Sun appears from behind clouds. Scrimshander possibly Thomas L. Albro (b. 1806, Portsmouth, RI), a Newport mariner. Along bottom "Pilot Fish, Dolphin, Blackfish, Billfish,/ Flying Fish, Albacore, Porpoise, Shark,/ Sea Serpent" & sea turtle. Ex-coll. Mrs. Mary Archiable.
UNIDENTIFIED whaleboat
1981.40
From the collection of Mrs. Mary Archiable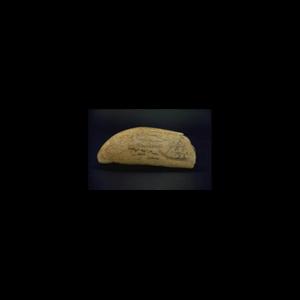 Related Subjects