Panbone engraved with a whaling scene.
panbone
SCRIMSHAW & ALLIED ARTS
marad; scrimshaw
4.69 x 9.69 x 0
Rectangular panbone section engraved with whaling scene in sepia, black, and blue-green inks. Whaleship and portion of another vessel at right, 7 whaleboats attacking sperm whales, one boat stove in, island in right background. Scene has sawtooth frame border. Bone pierced with 2 mounting holes at top.
UNIDENTIFIED whaling ship; UNIDENTIFIED whaleboat
1981.64.17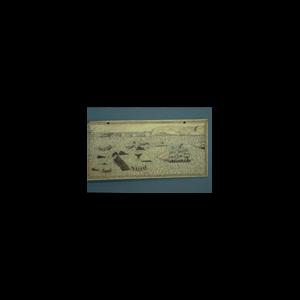 Related Subjects