"Greetings for newcomers on the pier alongside the Pacfic Mail S.S. CHINA, at Yokohama, Japan"
stereograph
PHOTOGRAPHS
Underwood & Underwood
Japan, Yokohama
1904
paper
overall: 3-1/2 x 7 in.; image: 3-1/4 x 6-1/4 in.
Stereograph; albumen print mounted on gray board with rounded corners; Japanese woman bowing to a Japanese man who is bowing in return on dock, group of three men watch to right, steamship CHINA (built 1869) is in background; printed on left "Underwood & Underwood, Publishers/ New York, London, Toronto-Canada, Ottawa-Kansas"; printed on right "Works and Studios ~/ Arlington, N.J. Westwood, N.J. Washington, D.C." and "SUN SCULPTURE/ TRADE MARK"; printed on bottom right "(1) Greetings for newcomers on the pier alongside the Pacific Mail S.S./ 'China,' at Yokohama, Japan. Copyright 1904 by Underwood & Underwood"; printed on back "This is the pier where the great ocean liners/ come to discharge or take on passengers. The/ great steamship China that you see lying along-/ side sails for San Francisco 4,800 miles away at/ the east, making the voyage in sixteen days -/ eighteen if she touches at Honolulu on the way./ You see there is a cosmopolitan assortment of/ faces here. This is the largest and most impor-/ tant of Japan's 'treaty ports' and a large repre-/ sentation of foreigners have permanent residence/ here, while tourists are always coming and going./ The town behind you, - a close packed Japanese/ quarter down by the shore and an airier 'foreign/ settlement' up on the bluff, - is a busy place/ with a thriving trade to be handled. Enormous/ quantities of Japanese goods are shipped from/ here annually and increasing quantities of western/ goods are received here; the tendency is towards/ a larger and larger adoption of western ideas/ and customs. At the present time it is however/ rather as an exporter than as an importer that/ a native merchant makes his fortune. The most/ significant of the imports are those of western-/ made machinery, railway materials and other/ productive matter, for these are naturally des-/ tined to equip the Mikado's land constantly bet-/ ter and better for its already creditable competi-/ tion in the world's markets./ You can see some of the picturesque native/ costumes here on the wharf, though so many of/ the bystanders are in the familiar and common-/ place clothes of western lands./ These harbor waters are alive all day with big/ and little craft of many kinds, come from many/ havens, and strict police regulations secure/ orderly safety for all concerned./ (Read Scidmore's 'Jinrikisha Days in Japan';/ Davidson's 'Present Day Japan'; Scherer's/ 'Japan To-day,' etc.)/ From Notes of Travel, No. 8, copyright 1904, by/ Underwood & Underwood." and "Greetings for Newcomers on the Pier; Yokohama, Japan." followed by the same in French, German, Spanish, Swedish and Russian.
2001.127.1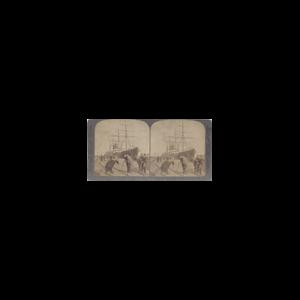 Related Subjects