"Launching of the PERRY SETZER"
print
PHOTOGRAPHS
USA, CT, Bridgeport
1902
emulsion on printing paper
overall: 4-3/4 x 6-5/8 in.
Print; emulsion on printing paper; photograph of the launching of 4-masted schooner PERRY SETZER (built 1902) of Bridgeport, CT, port view with flags flying, various small craft are in vicinity, including tw tug boats in foreground, stands are set-up on shore for viewers; handwritten on bottom left "Launching of the 'Perry Setzer'." Similar to 2000.135.
2002.36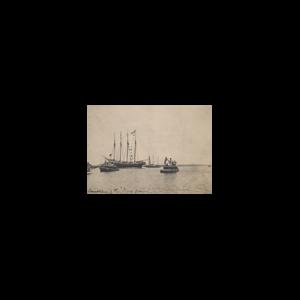 Related Objects
Related Subjects