"Winter Wait"
watercolor
PAINTINGS - WATERCOLORS
marad; paintings
Iams, James Drake
USA, MD, Baltimore
before 2002
paper
overall: 15-1/2 x 22 in.
Watercolor; watercolor by James Drake Iams, "Winter Wait"; depicts tugboat ATHENA, hailing from Baltimore, at dock during winter, snow on foreground, trees bare of leaves; artist's signature in lower right corner of image "JAMES DRAKE IAMS A.W.S."; glued to backing brief biography of James Drake Iams and Mystic Seaport Maritime Gallery label, now in correspondence file. Mystic Seaport, Museum Purchase Award, 2002.
2002.79
Mystic Seaport, Museum Purchase Award, 2002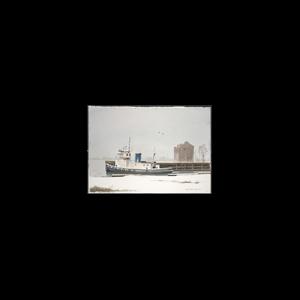 Related Subjects