Steam powered pond model SKIPPY
pond model
MODELS - VESSELS - MODEL YACHTS
marad; models
Wild, Otto Jr.
USA, CT, West Hartford
circa 1932
brass
overall: 26 x 6 1/2 x 6 in.
Pond model of steam driven boat SKIPPY; Hull (A) is made of soldered brass; with painted white, black waterline, red bottom; stern painted in gold "SKIPPY"; brass propeller, tin rudder; red pennant with white cross on bow; 2-cylinder steam engine, blowtorch and boiler attached inside hull, covered with removable aluminum top (B) which has a center hole for engine stack, and clip at bow to secure it to hull, top measures 15-1/4" x 5"; designed by maker Otto Wild, Jr. after a Chris Craft design; see Correspondence File.
2003.9.1AB
Given in memory of Otto Wild, Jr.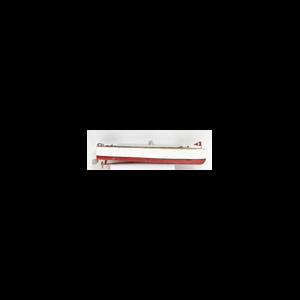 Related Media
Related Subjects