Schooner of Newport, RI, 1977
color slide ( 35mm only)
PHOTOGRAPHS - 35 MM SLIDES
Rosenfeld, Stanley Z.
USA, RI, Newport
1977-09
safety film, Kodachrome; plastic mount
overall: 1.5 x 1 mm.
35 mm color slide taken by Stanley Rosenfeld in September 1977 off Newport, RI. View of an unidentified gaff rigged schooner, seen down wind, under sail. The sun is setting in the background and the breeze is light. Handwritten on reverse of slide mount: "Kodachrome slide". Handwritten on front of slide mount: "Schooner off Newport,/ Box 126-06-01/ R.I./ 373/ Sept., 1977". Stamped on mount: "Stanley Rosenfeld".
BOX.1984.187.126.6.1
Mystic Seaport, Rosenfeld Collection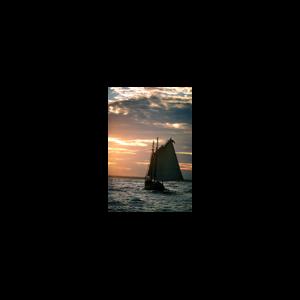 Related Subjects