Life Saving Station, Fishers Island, N. Y.
postcard
POSTCARDS
Wilbur, W. G.
USA, NY, Fishers Island
paper card
overall: 3 1/2 x 5 1/2 in.
Color photolithograph postcard; view of wood shingled building with tower, boathouse to left, printed below "LIFE SAVINGS [sic] STATION, FISHERS ISLAND N. Y". Published by W. G. Wilbur, Fishers Island, N. Y.; printed by Americhrome, NY. No message. Apparently cut from sheet of postcards, as front has partially visible label for another scene "ALONG MILLERTONS BEAUTIFUL MAIN STREET".
1999.205.3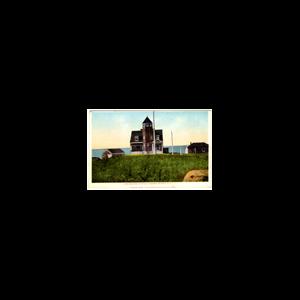 Related Subjects