The Cove from Mononotto Inn, Fisher's Island, N. Y.
postcard
POSTCARDS
Collotype Co., Inc.
USA, NY, Fishers Island
paper card
overall: 3 1/2 x 5 1/2 in.
Color photolithograph postcard; bay with shoreline in distance, several white houses on shore, gazebo to right, dock to left; printed above "THE COVE FROM MONONOTTO INN, FISHER'S ISLAND, N. Y."; published by the Collotype Company, Inc., N. Y. and Elizabeth, N. J.. No message; black ink stain on upper left corner.
1999.205.10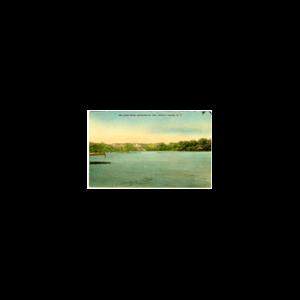 Related Subjects