"R. P. D. "Kaiserin Maria Theresia"
postcard
POSTCARDS
W. Sander & Sons
Germany, Geestemunde
1903-02-10
heavy card
3-1/2 x 5 in.
Color lithographic postcard with black and white photographic image; red background with white flagpole, left, holding 2 flags. Top flag is white with crossed blue anchor and key with blue wreath in center; bottom flag is white with red stripe border, black and white photolithograph of starboard view of steamship KAISERIN MARIA THERESIA. Printed below "R. P. D. "Kaiserin Maria Theresia"./ Nordd. Lloyd, Bremen"; handwritten message on front "Feb. 10/ Dear Charles,/ Get this week's/ Harpers. It contains a photo/ [card cut here, line missing]"; Addressed to "Mr. C. E. Schlachter/ 503 Manhattan Ave./ N. Y. C"; stamped and postmarked "NEW YORK, N. Y./ FEB 10/ 8-PM/ 1903".
1999.175.527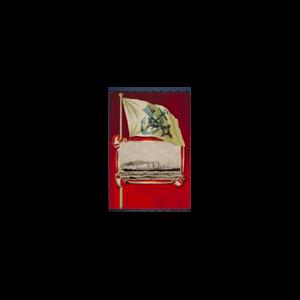 Related Subjects