Portrait of Julia Bentley (Mrs. Andrew Jackson Bentley) with Bentley children, Abby, Ruth, David, Andrew and Mary.
gelatin glass negative
PHOTOGRAPHS - GLASS NEGATIVES
Scholfield, Everett Augustus
1894-1895
glass
7 x 5 in.
Print from gelatin glass negative by E.A. Scholfield; negative number 3034 and Mrs. A.J. Bentley scratched on plate; studio portrait of Julia Callahan Bentley (1858-1907), wife of Andrew Jackson Bentley, posed before a painted studio backdrop with her five children: left to right, Abby (b. 1887), Mary (seated in chair, b. 1893), Andrew Jackson (standing in chair, b. 1892), Ruth (b. 1889) and David Dow (b. 1890).
1977.160.1840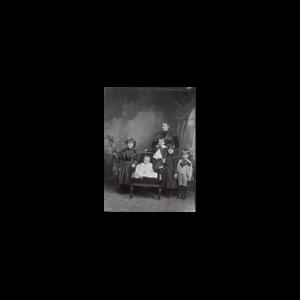 Related Subjects