4-Masted schooner JOAN KIELBERG, probably New Haven, Conn.
soft negative
PHOTOGRAPHS - SOFT NEGATIVES
Fisher, Henry Donald
USA, CT, New Haven
3.19 x 5.25 x 0
Soft negative; photographed by Henry Donald Fisher (1882-1961), starboard view of 4-masted schooner JOAN KIELBERG at wharf, probably in New Haven, CT; also at wharf a Conn. Transportation Corp. barge DONALD of New Haven; same location as 1977.334.1-7; neg. number handwritten on neg. lower left "188-2K".
1977.334.3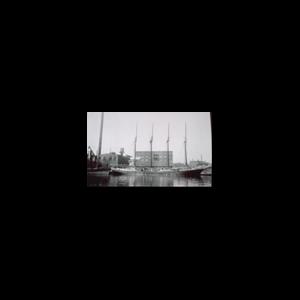 Related Subjects