"In Lydia's Shadow"
watercolor
PAINTINGS - WATERCOLORS
marad; paintings
Mostert, Dutch
USA, OR, Coos Bay
2004
paper
framed 18-1/4 x 22 1/4 in.; sight 9-3/4 x 13-3/4 in.
Watercolor by Dutch Mostert, "In Lydia's Shadow"; signed lower right "[fish symbol (C) '04/ Mostert ASMA". View of tugboat M/V BLANCO and bulk carrier OCEAN LYDIA with load of timber at dock, Coos Bay, Oregon. Handwritten on mat on back in felt-tip pen "In Lydia's Shadow (C) 2004" and in ballpoint pen "All rights remain with the artist". Museum Purchase Award, 2004.
2004.84
Mystic Seaport, Museum Purchase Award, 2004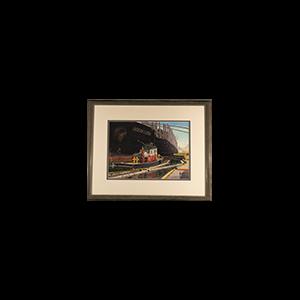 Related Subjects