AUSTRALIA II and LIBERTY's dacron sails, 1983
gelatin silver print
PHOTOGRAPHS
Rosenfeld, Stanley Z.
USA, NY, New York
ca. 1988
emulsion on photographic paper
overall: 14 x 11 in.; image: 13 1/2 x 9 in.
14x11 gelatin silver print made from a 5x4 black and white internegative made originally from a 35mm color slide photographed by Rosenfeld and Sons in 1983. Image of 63.5' Johan Valentijn designed, Newport Offshore built 12 meter class sloop LIBERTY (built 1983 in Newport, RI) and 64' Ben Lexcen designed, Steven Wood built 12 meter class sloop AUSTRALIA II (built 1983 in Australia) at America's Cup race. Visible in image: cropped port quarter views of LIBERTY (US-40) and AUSTRALIA II (KA-6) on starboard close reach under marconi-rigged mainsails and genoas in varigated colors. CREDIT LINE: Mystic Seaport, Rosenfeld Collection. For more information see: A CENTURY UNDER SAIL, text by Stanley Rosenfeld, p. 249.
2004.20.1.2.6.1
Mystic Seaport, Rosenfeld Collection, Stanley Z. Rosenfeld photographer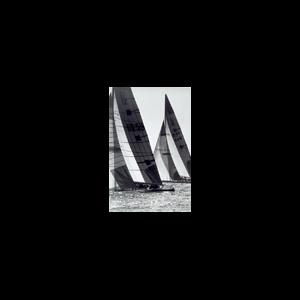 Related Events
Related Subjects