Winged Keel, 1983
gelatin silver print; black-and-white photograph
PHOTOGRAPHS
Rosenfeld, Stanley Z.
USA, NY, New York
ca. 1983
emulsion on photographic paper
overall: 10 x 8 in.; image: 9 1/2 x 6 1/2 in.
10x8 gelatin silver print made from a 5x4 black and white internegative originally made from a 35mm color negative photographed by Rosenfeld and Sons in 1983. Image of 64' Ben Lexcen designed, Steven Wood built 12 meter class sloop AUSTRALIA II (built 1983 in Australia)'s keel. Visible in image: close-up view of AUSTRALIA II's winged keel with two men in a boat looking at camera. Part of a series of shots, differences include shadows on water and position of men in boat and their hands. CREDIT LINE: Mystic Seaport, Rosenfeld Collection. For more information see: A CENTURY UNDER SAIL, text by Stanley Rosenfeld, p. 251.
2004.20.1.2.11.1
Mystic Seaport, Rosenfeld Collection, Stanley Z. Rosenfeld photographer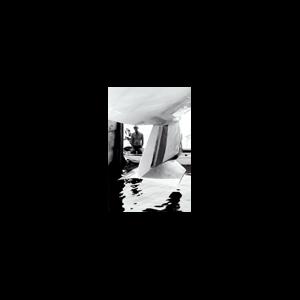 Related Objects
Related Events
Related Subjects