America's Cup Buoy off Fremantle, Australia, 1986
color slide (35mm only)
PHOTOGRAPHS - 35 MM SLIDES
Rosenfeld, Stanley Z.
Australia, Western Australia, Fremantle
1986-12-18
safety film, Kodachrome; cardboard mount
35mm
35mm color slide photographed by Stanley Z. Rosenfeld on December 18, 1986. Image of America's Cup Buoy during the Louis Vuitton Fleet Race at Gage Roads off Fremantle, Australia. Visible in image: port quarter views of three sloops on port close reach passing America's Cup buoy decorated with silhouettes of the America's Cup trophy. CREDIT LINE: Mystic Seaport, Rosenfeld Collection. For more information see: A CENTURY UNDER SAIL, text by Stanley Rosenfeld, p. 257. Handwritten on slide mount: "A/C BUOY-FLEET RACE / DEC 18 86 / SL. 6 / #11 / 218 / CUS / LAB-066-18-01" and stamped: "17 / DEC 86 / PHOTO © 1987 / STANLEY ROSENFELD".
2004.20.1.1.2
Mystic Seaport, Rosenfeld Collection, Stanley Z. Rosenfeld photographer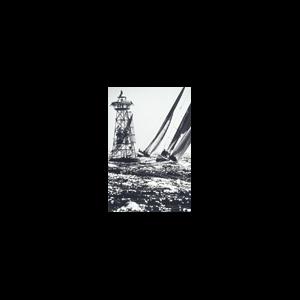 Related Objects
Related Events
Related Subjects