KIWI MAGIC, #KZ7, 1986
color slide (35mm only)
PHOTOGRAPHS - 35 MM SLIDES
Rosenfeld, Stanley Z.
Australia, Western Australia, Fremantle
1986-12-05
color film, Kodachrome; cardboard mount
overall: 1.5 x 1 mm.
35mm color slide photographed by Rosenfeld and Sons on December 5, 1986. Image of the 66' Bruce Farr, Ron Holland, Laurie Davidson designed, McMullen & Wing and Marten Marine built 12 meter sloop KIWI MAGIC sponsored by the Royal New Zealand Yacht Squadron of NEW ZEALAND (built 1986 in Auckland, New Zealand) at the 1986 Louis Vuitton Cup race off Fremantle, Australia. Image is an overhead view of KIWI MAGIC (using sail #S3) running before the wind under marconi-rigged mainsail and genoa, stern reads: "Kiwi / MAGIC / NEW ZEALAND / AUCKLAND / RNYS" and she has a white hull with a double blue stripe. Processing stamp on slide mount: "DEC 5 / 86 / SL.1 / #12" and also stamped: "PHOTO © 1984 / STANLEY ROSENFELD / DEC 86 / 10". CREDIT LINE: Mystic Seaport, Rosenfeld Collection, Stanley Z. Rosenfeld photographer. For more information see: A CENTURY UNDER SAIL, text by Stanley Rosenfeld, p. 259.
2004.20.1.1.4
Mystic Seaport, Rosenfeld Collection, Stanley Z. Rosenfeld photographer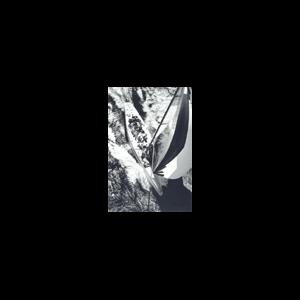 Related Events
Related Subjects