EAGLE, #US60, Louis Vuitton Cup, 1986
internegative; color slide (35mm only)
PHOTOGRAPHS - 35 MM SLIDES
Rosenfeld, Stanley Z.
Australia, Western Australia, Fremantle
1986-12-09
safety film, Kodachrome; plastic mount
overall: 1.5 x 1 mm.
35 mm color slide photographed by Rosenfeld and Sons on December 9, 1986. Image of 66' Johan Valentijn designed, Williams & Manchester built 12 meter sloop EAGLE (built 1986 in Newport, RI) at Louis Vuitton Cup race off Fremantle, Australia. Visible in image: cropped starboard bow view of EAGLE on a starboard close reach under genoa and mainsail, eagle decal in full view on side of sloop. CREDIT LINE: Mystic Seaport, Rosenfeld Collection, Stanley Z. Rosenfeld photographer. For more information see: A CENTURY UNDER SAIL, text by Stanley Rosenfeld, p. 262.
2004.20.1.1.8
Mystic Seaport, Rosenfeld Collection, Stanley Z. Rosenfeld photographer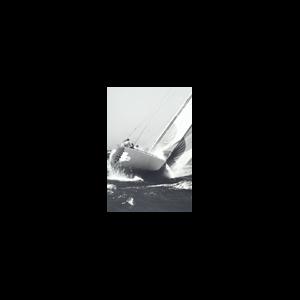 Related Events
Related Subjects