HEART OF AMERICA, #US51, Louis Vuitton Cup, 1986
color slide (35mm only)
PHOTOGRAPHS - 35 MM SLIDES
Rosenfeld, Stanley Z.
Australia, Western Australia, Fremantle
1986-12-09
safety film, Kodachrome; cardboard mount
overall: 1 x 1 1/2 mm.
35 mm color slide photographed by Rosenfeld and Sons on December 9, 1986. Image of the 67' Scott Graham, Eric Schlageter, Jim Gretzky, and Duncan MacLane designed, Merrifield-Roberts built 12 meter sloop HEART OF AMERICA (built 1986 in Bristol, Rhode Island) during the time of the Louis Vuitton Cup races off Fremantle, Australia. Visible in image: cropped starboard beam view of HEART OF AMERICA running before the wind under mainsail, the two spinnakers are flailing about, the spinnaker pole has bent and the crew is at work troubleshooting the errors. CREDIT LINE: Mystic Seaport, Rosenfeld Collection, Stanley Z. Rosenfeld photographer. For more information see: A CENTURY UNDER SAIL, text by Stanley Rosenfeld, p. 263.
2004.20.1.1.10
Mystic Seaport, Rosenfeld Collection, Stanley Z. Rosenfeld photographer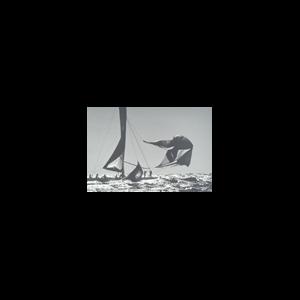 Related Events
Related Subjects