STARS & STRIPES '87, #US55, readying to jibe, Louis Vuitton Cup, 1987
color slide (35mm only)
PHOTOGRAPHS - 35 MM SLIDES
Rosenfeld, Stanley Z.
Australia, Western Australia, Fremantle
1987-01-17
color film; cardboard mount
35 mm
35mm color slide photographed by Rosenfeld and Sons on January 17, 1987. Image of 64' David Pedrick, Bruce Nelson, and Britton Chance designed, Robert Derecktor built 12 meter sloop STARS & STRIPES (built 1986 in Mamaroneck, NY) at Louis Vuitton Cup race off Fremantle, Australia. Visible in image: cropped, starboard quarter view of STARS & STRIPES (US-55 / U.S.A) running before the wind as the crew sets the spinnaker and takes down the genoa as she jibes, Alan Bond's blimp can be seen through the genoa and spinnaker. For more information see: A CENTURY UNDER SAIL, text by Stanley Rosenfeld, p. 264. Handwritten on slide mount: "STARS + STRIPES 1/17/87 / SH. 8 / #1 / 297 / CUS / LAB-064-24-10 [crossed out]" and stamped: "PHOTO © 1987 / STANLEY ROSENFELD / JAN 87 M9 / 18". CREDIT LINE: Mystic Seaport, Rosenfeld Collection, Stanley Z. Rosenfeld photographer.
2004.20.1.1.11
Mystic Seaport, Rosenfeld Collection, Stanley Z. Rosenfeld photographer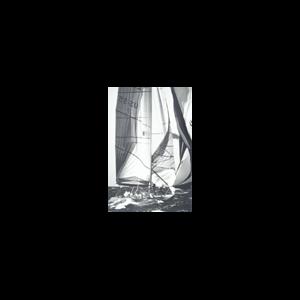 Related Objects
Related Events
Related Subjects