Victory Sail, 1987
color slide (35mm only)
PHOTOGRAPHS - 35 MM SLIDES
Rosenfeld, Stanley Z.
Australia, Western Australia, Fremantle
1987
color film; Kodachrome; cardboard mount
overall: 1 x 1 1/2 mm.
35mm color slide photographed by Rosenfeld and Sons in 1987. Image of crew celebrating aboard 64' David Pedrick, Bruce Nelson, and Britton Chance designed, Robert Derecktor built 12 meter sloop STARS & STRIPES (built 1986 in Mamaroneck, NY) after the final race of the America's Cup off Fremantle, Australia. Visible in image: cropped starboard beam view of STARS & STRIPES on close reach under mainsail with crew lining the windward rail waving at camera and clutching bottles of champagne, a wave crashes against the hull, specatator boats in background. CREDIT LINE: Mystic Seaport, Rosenfeld Collection. For more information see: A CENTURY UNDER SAIL, text by Stanley Rosenfeld, p. 274. Handwritten on slide mount: "STARS + STRIPES A/C / "Victory Sail" 1987 / LAB-064-42-20 / C.U.S. remounted" and stamped: "© Stanley Rosenfeld".
2004.20.1.2.1
Mystic Seaport, Rosenfeld Collection, Stanley Z. Rosenfeld photographer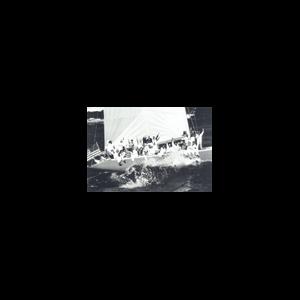 Related Objects
Related Events
Related Subjects