"Tom Bowling"and "I Sailed from the Downs in the Nancy"
sheet music
MUSICAL INSTRUMENTS & SHEET MUSIC
Dibdin, Charles; Allen, J.
England, London
paper
13-5/8 x 10 in.
Sheet music, "Tom Bowling" and "I Sailed from the Downs in the Nancy"; words and music by Charles Dibdin (1745-1814); published London: Musical Bouquest No. 518 (extract, pages 47-50) and J. Allen, no date; engraved title block with scrolls and mythological figures; illegible name handwritten upper right; 2 pages. Stuart M. Frank notes: Excellent presentation of Dibdin's classic eulogy to his older brother [Thomas Dibdin (c. 1725-1780)], first performed on the London stage in 1789; original title "Poor Tom"; referred to by Richard Henry Dana, and Herman Melville who quotes it in "White-Jacket" (see Stuart M. Frank notes in correspondence file for 2003.21.15); death at sea theme. See also 2003.21.15. "The original name [Tom Bowling] is that of a naval character in [Tobias] Smollet's 'Roberick Random' . . ." (Kemp: Oxford Companion to Ships and the Sea).
2005.28.12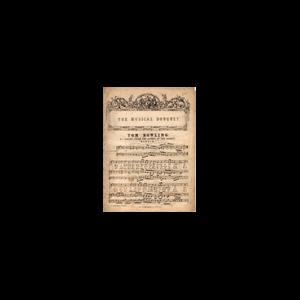 Related Objects
Related Subjects