Fishermen pulling boat and fish ashore
photo-engraving
PRINTS - ENGRAVINGS
Burns, Milton J.; WR. B.
1890
paper
sheet: 8-5/8 x 12-1/8 in.; image: 3-3/8 x 5 in.
Photo-engraving, half tone, engraver's proof of illustration by Milton J. Burns; fishermen pulling small boat and large fish ashore, schooners in background; signed in the plate lower left "BurnS./ 90"; signed in the plate lower middle "WRB.Sc"; signed in pencil lower left "M. J. Burns."; image exceeds border in lower half.
2001.12.9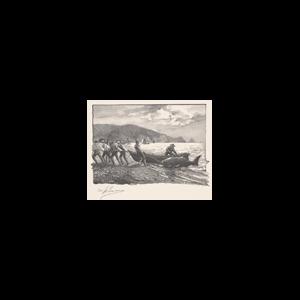 Related Subjects