"Wake up Jack, a sail!"
photo-engraving
PRINTS - ENGRAVINGS
Burns, Milton J.
circa 1910
paper
sheet: 9-1/2 x 12 in.; image: 3-1/8 x 5 in.
Photo-engraving, half tone, engraver's proof of illustration by Milton J. Burns; New England fishermen lost in their dory, iceberg in middle background and schooner visible left background; signed in the plate lower left "BurnS"; stamped in purple in upper right corner "Trimmed." Title, description and date are from article by Peter Falk (The Log of Mystic Seaport, v. 36, no. 1 [Spring 1984]: [27]).
2001.12.31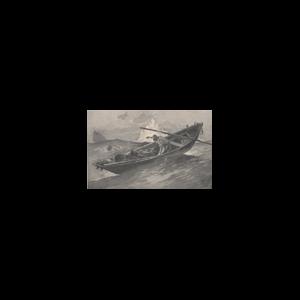 Related Subjects