"Leaping, and plunging bows under"
photo-engraving
PRINTS - ENGRAVINGS
Burns, Milton J.; Merrill, H. C.
before 1933
paper
sheet: 9-5/8 x 12-1/8 in.; image: 4-3/4 x 7-1/2 in.
Photo-engraving, half tone, engraver's proof of illustration by Milton J. Burns; two fishermen in dory in heavy seas, one man rowing, one man keeping lookout at bow; signed in the plate lower left "BurnS"; stamped in purple in upper right corner "Trimmed." TItle and engraver from 2001.12.38, see also 1987.67.9. Ref: Illustration for "The Catching of the Cod" by William J. Henderson, "The Century Magazine, vol LXXII, no. 4, August 1906.
2001.12.32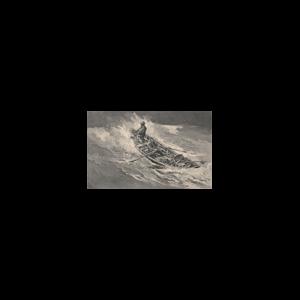 Related Objects
Related Subjects