"The 'SARAH B.' makes the pace a lively one."
photo-engraving
PRINTS - ENGRAVINGS
Burns, Milton J.; Lewis, G. M.
USA, MA, Georges Bank
before 1933
paper
sheet: 8 x 10-1/4 in.; image: 4-3/4 x 7-1/2 in.
Photo-engraving, half tone, illustration by Milton J. Burns; fishing schooner in heavy seas, masts of three other schooners visible in background; printed below "Drawn by M.J. Burns. Half-tone plate engraved by G.M. Lewis" and "THE 'SARAH B' MAKES THE PACE A LIVELY ONE"; signed in the plate lower left "BurnS-". From The Century Magazine. See 2001.12.39. One unaccessioned copy in correspondence file.
2001.12.40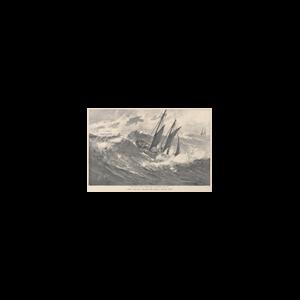 Related Objects
Related Subjects