"All the dories save one have been sighted"
photo-engraving
PRINTS - ENGRAVINGS
Burns, Milton J.; Varley, R.
before 1906
paper
sheet: 6-7/8 x 11 in.; image: 4-5/8 x 7-1/2 in.
Photo-engraving, half tone, engraver's proof of illustration by Milton J. Burns; fishing schooner and dory; printed below "Drawn by M.J. Burns. Half-tone plate engraved by R. Varley" and "ALL THE DORIES SAVE ONE HAVE BEEN SIGHTED"; signed in the plate lower left "BurnS-". Ref: Illustration for "The Catching of the Cod" by William J. Henderson, "The Century Magazine", vol LXXII, no. 4, August 1906. See 75.293 original gouache (MSM Burns exhibit #46) and 1984.67.10.
2001.12.41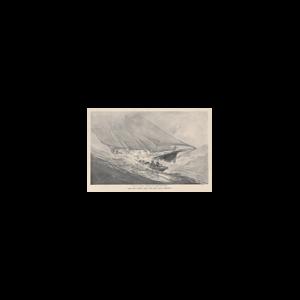 Related Objects
Related Subjects